Swaithe farmland bones man 'died in last five years'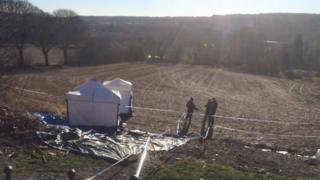 Human bones unearthed on farmland near Barnsley are believed belong to a man who died within the last five years, say police.
The skull and bones of a man were found on land near Swaithe on Sunday.
South Yorkshire Police said that initial findings from a post-mortem examination and the scene date the remains to within the last five years.
The force said the death remains unexplained and further forensic tests and enquiries are being carried out.
A police cordon is expected to remain in place for some time at the scene.
Police have appealed for anyone with any information about the discovery to come forward.