MPs call for review of hundreds of Orgreave police files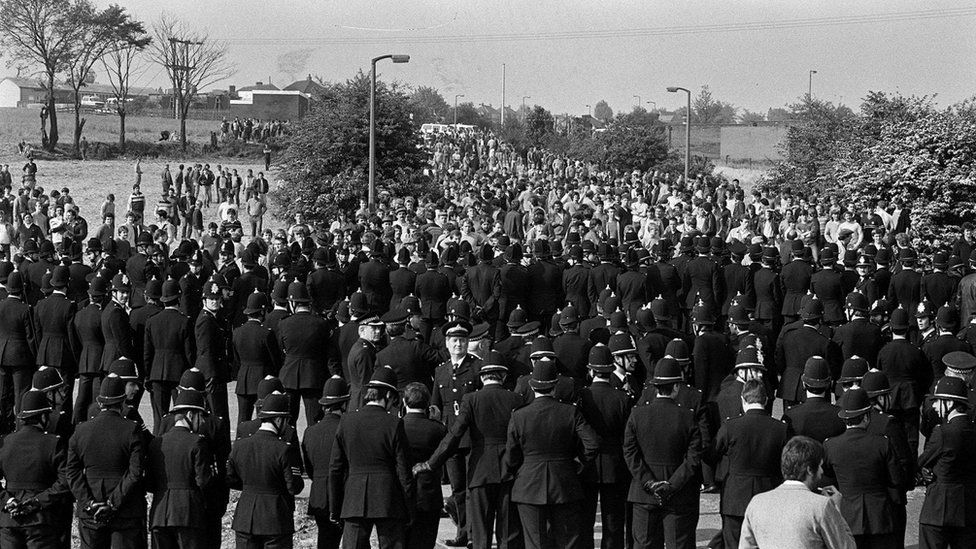 MPs have called for hundreds of previously unreleased police files about the so-called Battle of Orgreave to be independently examined.
The select committee said South Yorkshire Police holds almost 800 files relating to clashes between miners and police at the coking site in 1984.
It has asked the government to set up an independent review of the files.
Committee chair Yvette Cooper said: "Coalfield communities need to know the truth about what happened at Orgreave."
But, the Labour MP for Normanton, Pontefract, Castleford and Knottingley, said the force said it had since located another 10 boxes.
Ms Cooper said the material had not previously been reviewed by either the Home Office or the Independent Office for Police Conduct, formerly the IPCC, and, given the scale, "merits urgent attention".
She wrote: "It would not be appropriate for South Yorkshire Police to be the arbiter of what is and is not placed into the public domain. That needs to be done independently and must have credibility.
"Given the deep concerns that remain about what happened at Orgreave, I am sure you will agree that it is extremely important that as much information as possible is now released and that every one of the nearly 800 files held by South Yorkshire Police independently examined."
South Yorkshire Police said it "recognises [the] public concern" surrounding Orgreave and hoped to make "as much of the relevant documentation as is possible" publicly available.
A Home Office spokesman said it would respond to Ms Cooper's letter in due course but that disclosure of the files was a matter for South Yorkshire Police.
Ms Rudd said she made the "difficult decision" because "ultimately there were no deaths or wrongful convictions" resulting from the events of 1984.
About 10,000 strikers and 5,000 police were involved in the clashes and scores of miners were arrested, although all charges were later dropped.
Related Internet Links
The BBC is not responsible for the content of external sites.