Sheffield shooting trial: Man 'saw brother shot dead in car'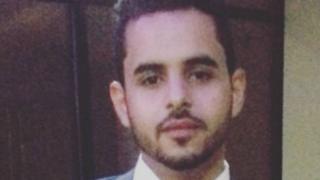 The brother of a man killed as he sat in his car saw the shooting from just yards away, a jury heard.
Aseel Al-Essaie, 23, died after he was attacked on Daniel Hill, in Sheffield, in February 2017.
His brother, Ali, told Sheffield Crown Court he had been shot by one of three men in a grey VW Golf with the kind of gun used in an "old cowboy film".
Matthew Cohen, 29, Dale Gordon, 33, and Keil Bryan, 32, all from Sheffield, deny murder.
More stories from across Yorkshire
Ali, who was driving a white Mercedes, told jurors he had seen a man he recognised as Mr Cohen driving the Golf along Daniel Hill shortly before the shooting.
He said he had stopped and exchanged words with Mr Cohen, describing him and his front seat passenger as "hyped up".
He said that as he drove off he saw the VW pull up next to his brother's black Mercedes.
"I thought something might happen between them so I spun my car around," Ali told the court.
"I saw them having an argument and then [the men in the Golf] pulled a gun out from the passenger side."
The weapon, he said, had a "long silver barrel".
"The gun was sticking out of the window and my brother was telling them to go away and they have shot him.
"[The Golf] sped off. It was flying.
"I was about a car's length away."
He told the court his brother had clambered out of his vehicle holding his shoulder and ran towards his car.
"I tried to put him in my car but I could not do it, I was shouting for help," Ali told the court.
"I tried to talk to [Aseel] but he was not talking at all. He was making these weird noises. I think he was already gone."
'Scared and worried'
The court heard Ali had not initially cooperated with police and at one stage was arrested himself on suspicion of conspiracy to murder.
When asked why he did not help investigators he said he was "scared and worried I might be next".
Asked by Mr Cohen's barrister, Simon Csoka QC, if he and his brothers were drug dealers he said 'No'.
Mr Cohen, of Bramwell Close, Mr Gordon, of St Phillip's Road and Mr Bryan, of Brackley Street, are on trial with three other men and a woman, all of Sheffield.
James Good, of Ringstead Crescent, is alleged to have set fire to the VW Golf on the orders of Mr Cohen. Both he and Mr Good deny perverting the course of justice.
Brothers Razwan, 25, and Mohammed Mirza, 30, of Staniforth Road, are said to have collected Mr Cohen, Mr Gordon and Mr Bryan after the shooting. They deny assisting an offender.
Mr Cohen's mother Patricia Sharp, 58, is accused of lying to police about ownership of the car allegedly used in the killing and denies perverting the course of justice.
The trial continues.