International Women's Day: Sheffield's suffrage shop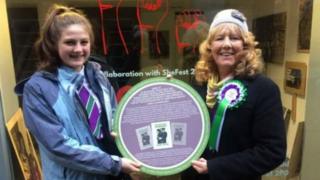 A shop that played a significant role in the suffragette movement has been remembered with a special plaque on International Women's Day.
The suffrage shop on Chapel Walk, Sheffield, was occupied by the Women's Social and Political Union (WSPU).
An active location for the suffragette movement from 1908, the shop was opened by Adela Pankhurst, daughter of Emmeline Pankhurst and a WSPU member.
The commemorative plaque was funded through a crowdfunding appeal.
Sheffield was the first place to have a woman's suffrage society run by women for women, said the council.
It is 100 years since the Representation of the People Act 1918 gave women over the age of 30 the right to vote in all national elections.
However, universal suffrage wasn't granted until 1928.
The shop, at 26-28 Chapel Walk, and an upstairs meeting room were the WSPU's local headquarters.
It also hosted the Women's Cooperative Guild that secured equal pay for women working in the Cooperative's shops in 1918.
The Sheffield Women's Political Association was formed in 1851.
Councillor Olivia Blake, deputy leader of Sheffield City Council, said: "I think of the women who fought bravely and proudly to give women like me the right to vote, the right to speak, the right to stand.
"Of course there is more to be done and women continue to fight for what is right, for the same opportunities, pay and choices as men."
An exhibition of suffrage materials was also on display.
The shop is now privately owned and currently unoccupied.