Sheffield shooting trial: Witness 'conspired with police'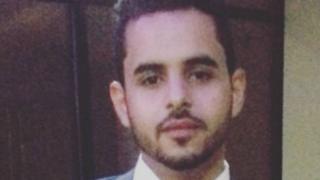 A key prosecution witness in the trial of three men accused of murder has been accused of "conspiring with police" to make a false statement.
Matthew Cohen, 29, Dale Gordon, 33, and Keil Bryan, 32, are alleged to have shot dead Aseel Al-Essaie, 23, in Sheffield in February 2017.
The witness, a serving prisoner, claims Mr Cohen confessed to the murder in jail but barrister Simon Csoka QC suggested his statement was not true.
All three men deny murder.
More stories from across Yorkshire
Mr Al-Essaie was killed as he was sitting in his car. Prosecutors allege Mr Cohen was driving the car while Mr Gordon and Mr Bryan were both passengers.
In cross examination at Sheffield Crown Court, Mr Csoka suggested the witness had been fed information by officers investigating the murder before making his statement.
He said: "You have been conspiring with the police."
The witness replied: "I didn't conspire with the police. Why would I do that? What am I getting out of it?
"All I've done is I've been told something [by Mr Cohen] and I've done the right thing.
"I could not have it on my mind that they have killed someone. I'm a changed person. I've done nothing wrong."
The court heard the witness had been visited by police during a legal visit in jail on 7 June 2017 and had given his statement about Mr Cohen's alleged confession on 15 June.
He said he had been speaking to Mr Cohen "all the time" while the two men had briefly been on the same wing at HMP Doncaster.
Mr Csoka, however, claimed the two men had "barely ever" spoken and said prison records suggested he had been locked in his cell for a large amount of time they had been on the same wing.
The barrister added the witness may also have been given information by Mr Al-Essaie's brother Saleh and paid Mr Al-Essaie's family to lie about Mr Cohen's alleged confession.
'Paid to lie'
"You and the police have planned what you were going to say haven't you?" Mr Csoka said.
The witness replied: "There's been no negotiation with the police. I'm a changed man and it's the right thing to do."
Mr Csoka said: "You are doing this because you are lying and you have been paid to lie."
"I'm not lying and I've not been paid to lie. I came forward and told the truth," came the reply.
Mr Cohen, of Bramwell Close, Mr Gordon, of St Phillip's Road and Mr Bryan, of Brackley Street, are on trial with three other men and a woman, all of Sheffield.
James Good, of Ringstead Crescent, is alleged to have set fire to the VW Golf used in the shooting on the orders of Mr Cohen. Both he and Mr Good deny perverting the course of justice.
Brothers Razwan, 26, and Mohammed Mirza, 30, of Staniforth Road, are said to have collected Mr Cohen, Mr Gordon and Mr Bryan after the shooting. They deny assisting an offender.
Mr Cohen's mother Patricia Sharp, 58, is accused of lying to police about ownership of the car allegedly used in the killing and denies perverting the course of justice.
The trial continues.