Centuries-old worker's graffiti at Wentworth Woodhouse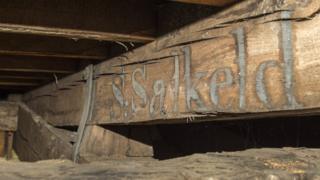 Graffiti and handprints from craftsmen dating back more than 200 years have been uncovered during renovation work at a stately home.
The marks at Wentworth Woodhouse, near Rotherham, South Yorkshire, were found in timbers during preparatory work to fix a leaking roof.
More than 20 messages, some dating back to 1806, have been found.
A preservation trust bought the house, which stands in parkland, for £7 million in 2017.
The messages were discovered by specialists examining the roof before the replacement of 14,000 tiles begins on Monday.
The Wentworth Woodhouse Preservation Trust estimates it will need up to £200 million to restore the house.
Built between 1725 and 1750, the front of the house is more than 600ft (180m) long. The main house has more than 200 rooms.
Graffiti has been found in leadwork on top of the roof, under the slate and across the roof beams with the most modern marks in the roof date from the 1950s.
Master builder Paul Furniss has been researching the lives of some of the the stonemasons, carpenters, roofers, and sheet leadworkers who left their marks.
He said: "One was left in the 1830s by Solomon Salkeld, a Chesterfield man baptised in 1792 who became a painter for the Earl of Fitzwilliam and eventually emigrated to the USA."
Mr Furniss said there could be yet more marks uncovered, even some made by a distant ancestor.
"My family were originally from Wentworth and were stone masons who built the stable block between 1762-1773, after the main house was built."