Sheffield City Region mayoral candidate shortlist revealed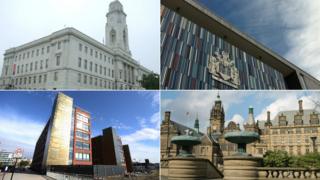 The seven candidates aiming to become mayor of the Sheffield City Region have been revealed.
A mayoral election will be held on 3 May, with people in Barnsley, Doncaster, Rotherham and Sheffield eligible to vote.
The result will be revealed on 4 May.
The four-year mayoral post has been controversial as no devolution and funding deal has yet been agreed, unlike similar roles in Greater Manchester and the West Midlands.
Those already signed up to vote in local council elections are eligible to vote for the new mayor. Other have until 17 April to register,.
The shortlist is:
David Stewart Allen, English Democrats
Mick Bower, The Yorkshire Party
Dan Jarvis, Labour and Co-operative Party
Naveen Judah, South Yorkshire Save Our NHS
Hannah Ruth Kitching, Liberal Democrats
Robert Murphy, Green Party
Ian Geoffrey Walker, Conservative Party
Analysis by James Vincent, BBC Yorkshire political editor
Yorkshire has been banging on about getting a mayor for years. In May, South Yorkshire will finally get one.
Whoever is elected will be in charge of bringing more power and money away from Westminster so we can make big decisions about planning and infrastructure for ourselves.
The councils in South Yorkshire fell out and failed to agree on this election, meaning the mayor will have the responsibility for bringing in power and money, but won't actually have any power or money.
As it stands the mayor will just be another person sat round a table at the Sheffield City Region - that should have been sorted out before the election, but hasn't and will be the new mayor's first priority.
Once that has all been agreed they will have the ability, and the cash, to focus on what South Yorkshire needs.