Air cadets mark RAF centenary in Doncaster parade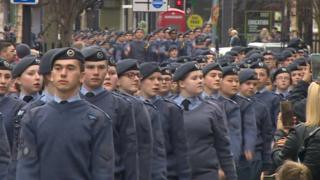 A thousand air cadets have marched through Doncaster to mark the 100th anniversary of the Royal Air Force.
The parade began at the town's council offices at about 13:30 BST and culminated with a special service at Doncaster Minster.
The Royal Air Force (RAF) was formed on the 1 April 1918.
Cadet Warrant Officer Robert Lloyd, 18, who took part in the event, said it had been "a once in a lifetime opportunity to be part of such a big parade".
The parade was also attended by TV personality Carol Vorderman, who is an ambassador for the Air Cadets.
She said: "It's an honour to be part of such a wonderful parade with over a thousand cadets who are commemorating the birthday of the oldest air force in the world; the RAF."
There are more than 42,000 Air Cadets and about 1,200 squadrons and units.