Sheffield student Thomas Rhodes died 'in hotel fall'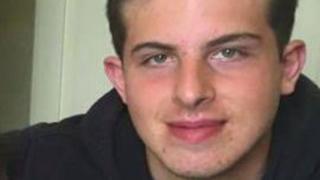 A 19-year-old university student died after falling from the ninth floor of a derelict hotel in Sheffield, a coroner has said.
Thomas Rhodes, of Melton Mowbray, Leicestershire, died in 2017 at the abandoned Hallam Towers in Fulwood.
An inquest at Sheffield Coroners' Court heard there had been an "epidemic" of trespassing at the location.
Coroner Christopher Dorries said the "exact circumstances in which Thomas fell to his death remain unclear".
More stories from across Yorkshire
Mr Rhodes, a geography student at the University of Sheffield, was found dead on 27 March outside the building on Manchester Road.
The inquest heard his body was discovered by Alina Akhtar and Yaseen Khaddouri, who gained access to the site by squeezing through a gap in the fence.
In a written statement, Mr Khaddouri said they heard "a loud thud towards the front of the building", called 999 and stayed with Mr Rhodes until an ambulance arrived.
Det Con James Harding, of South Yorkshire Police, told the inquest there was no evidence of any third-party involvement.
The inquest heard Mr Rhodes's mobile phone, headphones and jacket were found on the ninth floor of the 11-storey building.
Mr Harding said there was no evidence to suggest Mr Rhodes intended to take his own life, and toxicology tests found he had not been drinking.
The inquest heard Mr Rhodes, who was described as "quiet, shy, funny and friendly" by friends, had been taking anti-psychotic medication since 2016.
'Disaster waiting to happen'
It was believed he had stopped taking his medication in the days before his death, the court was told.
Following his death the owners of Hallam Towers, Blenheim Group, issued a statement urging so called "urban-explorers" to stay away from the site.
Speaking after the inquest his parents David and Carmel and sister Kate said efforts to prevent access were "disgraceful".
"We appreciate Thomas was trespassing, he should not have been there along with all the other students but it was easy for him. It was a disaster waiting to happen," they said.