Tree dispute strengthens Green Party in Sheffield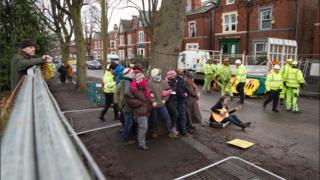 Voters angry at Sheffield City Council's controversial tree-felling programme appear to have have helped the Green Party gain seats.
Labour has been left in a weakened position after losing four seats - two to the Greens and two to the Lib Dems.
In Netheredge, where trees are earmarked for felling, the Green Party candidate Alison Teal held on to her seat, beating Labour by 1,300 votes.
Labour leader Julie Dore accepted the tree-felling had been unpopular.
Read more elections news from across Yorkshire
Thousands of trees, assessed as dead, dying, diseased, damaging or dangerous, have been cut down since 2012 as part of the £2bn Street Ahead project.
Campaigners say healthy trees have also been lost.
The work is being done under a private finance initiative (PFI) contract the council has with Amey.
So far the authority has refused to suspend or renegotiate the deal and it would have penalties to pay if it ended the contract.
Responding to a question about the unpopularity of the tree-felling, Ms Dore said: "We have been urging and encouraging Amey to come up with solutions to enable the outcomes we expected in the contract, which was to resurface all the roads, the pavements, the kerbs, the verges, the street lighting whilst at the same time as protecting and retaining as many of the street trees as possible."
The Greens' Alison Teal thanked everyone for their support.
Despite the losses, Labour did claw back one seat - East Ecclesfield, from UKIP.
The council chamber is now made up of 84 seats comprising 53 Labour councillors, 22 Lib Dems, six Greens and three UKIP members.
In Barnsley, Labour won 19 seats of the 21 seats being contested, losing Penistone West to the Liberal Democrats, but gaining Dodworth from the Barnsley Independents Group.
The Conservatives held on to their seat in Penistone East.
The results mean that of the 63 seats on the council 55 are currently held by Labour, four by the Conservatives, three by the Barnsley Independents Group and one by the Liberal Democrats.