Dowager Countess of Harewood Patricia Lascelles dies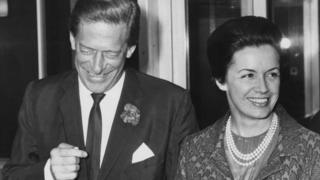 The Dowager Countess of Harewood, Patricia Lascelles, has died aged 91.
The Earl of Harewood David Lascelles said his stepmother died at home in Harewood House, near Leeds, on Friday after a long illness.
The countess was born Patricia Tuckwell in Australia in 1926 and was a violinist and fashion model who used the name Bambi Smith.
She married the 7th Earl of Harewood, George Lascelles, in 1967 in the United States.
He was the eldest paternal first cousin of the Queen, until his death in 2011.
Lord Harewood said: "I am very sad to announce the death of my stepmother Patricia, who died peacefully after a long illness on 4 May.
"She was at her home, Harewood House, where she had lived during her long marriage to my father and where, since his death in 2011, she has continued to live, in a house that they both loved.
"My thoughts are especially with her sons Michael Shmith and Mark Lascelles, with her brother Barry Tuckwell and with her wider family both here in the UK and in Australia, where she was born and lived the first part of her life."
The funeral will be held in Harewood and details are to be confirmed.
The home, designed by architects John Carr and Robert Adam, was built between 1759 and 1771 for wealthy plantation owner Edwin Lascelles, the first Baron of Harewood.
It is open to the public and its grounds are regularly used for events.
The countess was a football fan and was made honorary president of Leeds United in 2017, a position held by her late husband for 50 years.