South Yorkshire continuous fire service shifts 'unlawful'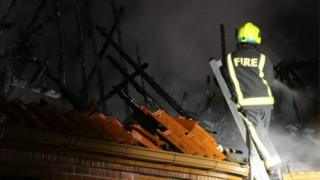 Cost-cutting shift patterns which see some South Yorkshire firefighters working four days and nights in a row are unlawful, the High Court has ruled.
The shifts can mean firefighters working 96 hours of continuous duty, with nights spent at their station.
They were introduced at four stations to cut costs by £1.6m a year.
The Fire Brigades Union took the case to the High Court and a judge has ruled the shift system breached EU Working Time Regulations.
Declaring the "close proximity crewing" shifts unlawful, Mr Justice Kerr said they did not guarantee firefighters sufficient breaks.
The regulations state that workers should get 11 hours' worth of continuous breaks during every 24-hour period.
'Severe financial pressure'
But under the system used in Barnsley, firefighters only got breaks if they were called out to an emergency between midnight and 07:00.
Those breaks "do not come near to satisfying the requirement to provide 'compensatory rest' periods," Mr Justice Kerr told the court.
"The employee is not able to stop work, go home, relax, forget about work or pursue his own interests."
South Yorkshire Fire and Rescue Authority said those who volunteered for the shift pattern were paid 30% on top of their normal pay.
It said getting rid of the system at the four stations would put firefighters under "severe financial pressure".
The judge ruled: "I appreciate that the authority is doing its best to promote public safety and cope with severe budget cuts.
"I also regret the disruption to individuals that may be caused.
"But I do not feel able to refuse relief where there is a conscious decision to commit a continuing and systematic breach of the law.
"You cannot perform one legal duty by breaching another."