Funeral of boxer Scott Westgarth held in Sheffield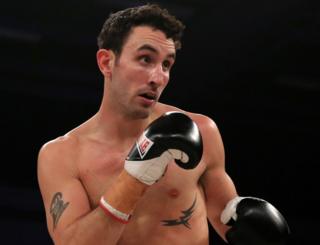 The funeral has taken place of British boxer Scott Westgarth who died in hospital after falling ill following a light-heavyweight fight.
The 31-year-old, originally from the North East, died in hospital after winning a bout against Dec Spelman.
The funeral took place at Grenoside Crematorium in Sheffield and was attended by friends, family and fellow sportspeople.
Westgarth's trainer Glyn Rhodes said it was a very sad day.
"A wonderful, talented young man, taken too soon," he said.
He also described reading a poetic tribute at the service as "the hardest thing I've ever had to do".
Fellow members of the Sheffield Boxing Centre also paid tribute to the boxer, some wearing T-shirts emblazoned with the slogan Team Westgarth.
Players from his beloved Newcastle United FC also signed a shirt, which was draped over his coffin.
After the fight in Doncaster against Spelman in February, commentators said the boxer started to look distressed and had complained of head pains.
He was taken to hospital but later died.
The news of Westgarth's death was announced by the promoter for the fight, Stefy Bull, who said the boxer was "a young man doing a job he loves".
Westgarth's opponent on the night, Spelman, also paid him a tribute.
His death also prompted reaction from the sporting world and boxing greats, including Frank Bruno and Ricky Hatton.