Brendan Ingle funeral: Sheffield gathers to say farewell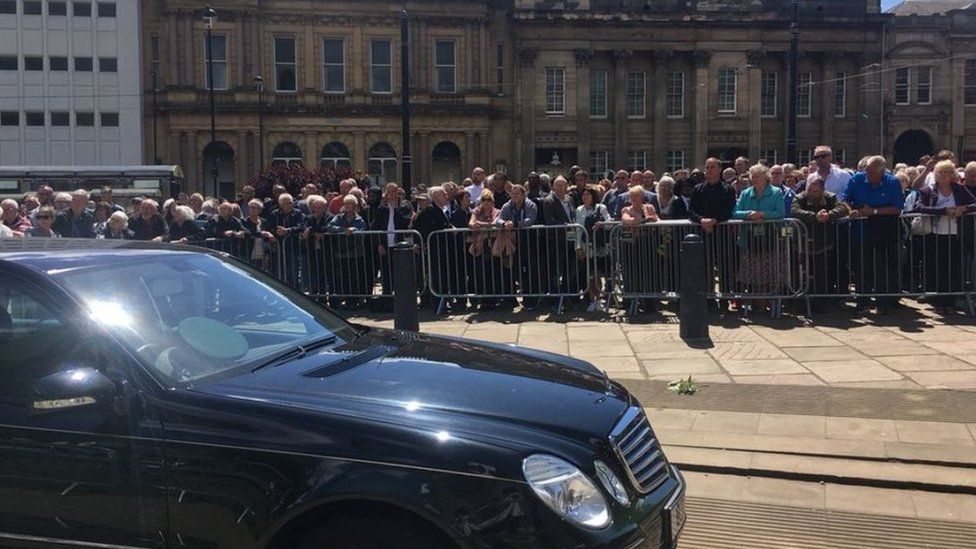 Hundreds of people have gathered for the funeral of boxing trainer Brendan Ingle in Sheffield.
Ingle died in May aged 77 at the Royal Hallamshire Hospital in Sheffield from a brain haemorrhage.
Boxing world champions said he was a 'father figure' in their lives.
The Dublin-born former boxer guided four fighters to world titles from the gym - Johnny Nelson, Naseem Hamed, Junior Witter and Kell Brook.
Speakers and screens were set up outside the cathedral for those unable to get into the church for the funeral.
Earlier Ingle's coffin was taken to the gym, in Newman Road, Sheffield, to give people the chance to pay their respects and sign a book of condolence before the service.
He was made an MBE in 1998 for his services and contributions to British boxing and his work with young people in the Sheffield area.
During the funeral his daughter Bridgette told the congregation her father's favourite literature was the work the America author Henry van Dyke.
She quoted some of the author's work in relation to her father's life saying: "Nevermore thou needest seek me; I am with thee everywhere; Raise the stone, and thou shalt find Me; cleave the wood, and I am there. "
Boxer Kell Brook who was trained by Ingle and held the IBF welterweight title from 2014 to 2017 said: "He's been a trainer, a dad, he's been a friend, he's been many things.
"Without him I wouldn't have become a world champion."
And fellow boxer Junior Witter said: "He was a father figure, he encapsulated wisdom, knowledge and being real.
"His legacy is his life, his kids, the things he's done for people, boxing's the cream on the top, it's the rest of it that's his real work."
Having moved to South Yorkshire from Ireland aged 18, Ingle fought as a professional middleweight in his mid-20s, and at his pinnacle was ranked as the eighth best fighter in the UK.
While living in Wincobank, Sheffield, he was asked by a vicar to carry out community work because youths in the area were "running wild".
Ingle organised a weekly dance at St Thomas's church hall, which led to the creation of his famous gym.
Now moves are under way to create a permanent memorial for the trainer in the city.
Approaches have been made to Sheffield City Council, while former sports minister Richard Caborn has backed the idea.
He said: "Recognition in the form of statue would be a fitting tribute and a great way to remember Bren, who contributed so much to Sheffield and the world of boxing.
"When was the last time we recognised one of our iconic, favourite sons in this fitting and appropriate way?
"Having spoken to his family I know we have their support."
Related Internet Links
The BBC is not responsible for the content of external sites.