Kilnhurst recycling fire 'could have been caused by sun'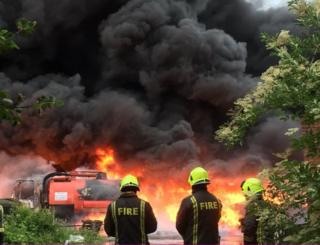 A large fire at a plastic recycling plant in Rotherham may have been started by the sun's reflection, a company has said.
Plumes of smoke could be seen coming from the Kilnhurst site after the fire broke out at about 16:30 BST on Sunday.
Shaun Love from Moulding Solutions Ltd, which operates from the site, said much of its plastic stock and three vehicles have been destroyed.
The fire service said it is thought to have been started accidentally.
Yorkshire breaking news: Water main burst forces Leeds' junction closure; Crimewatch appeal over teen shooting
Stewart Nicholson, of South Yorkshire Fire and Rescue, said about 60 firefighters were in attendance at the height of Sunday's blaze.
No-one was injured and no buildings were damaged, but residents were advised to keep their doors and windows closed.
Moulding Solutions Ltd sorts scrap plastic and turns it into pellets to be reused.
Mr Nicholson said: "It's granular plastic that's been on fire, large quantities, it looks like thousands of tonnes," he said.
Mr Love said business would resume as soon as the fire service said it is safe. He said investigators suspect the blaze was started by the sun's reflection from a windscreen on to scrap plastic.
"The fire service has been inspecting CCTV footage and they suspect there's been a reflection from a windscreen, and with it being warm on Sunday the heat from that has set it on fire," he said.
"Fire service investigators are due to come back later to confirm that."
Universal Recycling and Moulding Solutions Ltd both operate from the site on Wharf Road in Kilnhurst.
Last May, a major blaze at neighbouring Universal Recycling was found to have been caused accidentally, by machinery.
The fire service and Public Health England monitored air and water quality in the area but said there were "no concerns" with the results.
Public Health England tweeted about the effects of smoke.