'Beast of Wombwell' Peter Pickering died of natural causes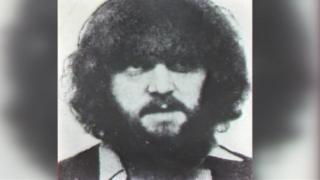 A convicted child killer dubbed the "Beast of Wombwell" died of natural causes, an inquest has heard.
Peter Pickering, 80, stabbed and strangled 14-year-old Shirley Boldy in Wombwell, near Barnsley, in 1972 and was suspected of murdering Wakefield schoolgirl Elsie Frost in 1965.
In March he was convicted of raping a woman weeks before he killed Shirley, and was waiting to be sentenced.
He was at Thornford Park psychiatric hospital in Berkshire when he died.
Speaking after Pickering's death, Elsie Frost's brother Colin said the family felt they had been "cheated" out of getting justice and believed Pickering could be responsible for other murders.
The inquest at Reading Town Hall heard Pickering died at Thornford Park on 25 March where he had been held since 2014 after being moved from Broadmoor.
Pathologist Dr Gearoid Kingston, who carried out a post-mortem examination, said he died of a retroperitoneal haemorrhage due to a ruptured abdominal aortic aneurysm.
It also showed he was suffering from heart disease.
Mental health nurse Joshua Muga said he knew Pickering well, having worked at the hospital for two years.
"Mr Pickering had been attending a trial at court and was understandably anxious about this," he said in a statement.
He started complaining of pain to his back, stomach and legs on the evening of 24 March.
Pickering later told Dr Amit Chatterjee he was suffering from "stabbing hot poker-like pain" in his lower back, the coroner said.
He was sitting up in a chair when medics left his room at 23:15, but when Mr Muga returned five minutes later he had collapsed on the floor.
Hospital staff and paramedics applied CPR, but he was pronounced dead at 00:52.