Doncaster Christmas Day killer jailed for life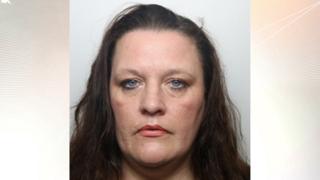 A Christmas Day killer who stabbed her step-grandfather more than 120 times with a steak knife has been jailed for life.
Lindsey Fletcher, 39, also beat 72-year-old Michael Eaton with his walking stick at his Doncaster home.
She claimed he tried to sexually abuse her like he did when she was a child.
Fletcher was found guilty of murder at Sheffield Crown Court and handed a minimum term of 12 years and 196 days due to time on remand.
Yorkshire breaking news: Decision day for strip club licence; Fresh strike hits Northern rail services
During the four-day trial, the jury heard drug-addict Fletcher, of St James Street, Doncaster, stripped Mr Eaton's body naked and doused it with bleach.
She then took her 12-year-old daughter with her to dispose of his clothes.
The court heard Fletcher "loathed" the retired delivery driver, talked about killing him and researched poisoning on the internet.
Prosecutor Dafydd Enoch QC said: "He didn't have a chance."
Fletcher told the jury she spent the morning with her children unwrapping presents before going to Mr Eaton's house to take drugs.
Det Ch Insp Steve Handley said: "Mr Eaton was found with in excess of 120 stab wounds to his upper body, including to his face, head and neck."
He said police divers recovered his jumper from the River Don and the garment was "covered in holes showing exactly where he had been stabbed".
Fletcher claimed Mr Eaton had abused her when she was young but detectives said it was never reported to police.
Mr Enoch told the court she used him to get easy money when she went to live with him at his flat in Balby.
"If he did abuse her when she was a child it was unforgivable and disgusting but it does not entitle the defendant to kill him in cold blood," he said.
"No-one in law is entitled to end a life in that way."