Pro-and anti-Spearmint Rhino protesters in Sheffield stand-off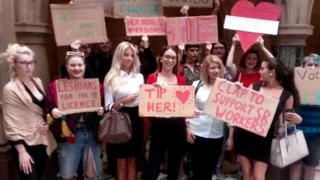 Campaigners for and against a strip club have demonstrated outside a council meeting to discuss its licence renewal bid.
Spearmint Rhino supporters say it is "not feminist" to close strip clubs, but objectors say the club is demeaning to women and sited in the wrong place.
The national chain's Sheffield club has been on Brown Street for over 15 years.
Spearmint Rhino has declined to comment ahead of the licence renewal decision, due later this week.
Yorkshire breaking news: 100 jobs axed at Poundworld HQ in Yorkshire; Rats allowed to run wild at York museum
Roz Wollen, of campaign group Zero Option Sheffield, said some cities "have taken the brave step, the right one, actually saying no to strip clubs".
Objectors said the dancers are expected to offer "extras" and said lap dancing clubs promote inequality and misogyny.
Sheffield Hallam University, leading objections, said a lap dancing club so close to a "world class university" was "ludicrous".
'Not feminist'
But Charlie Murphy, of Sheffield Students' Union Labour group, said: "Feminism is not about telling other women what to do with their bodies and what jobs to do.
"Women should have full autonomy. Shutting down a strip club claiming it is feminism whilst simultaneously putting women out of work is not feminist.
"All labour is exploitative. Claiming that women are being exploited by Spearmint Rhino is no different to saying you are being exploited when you work in a supermarket."
Single mother Rachel McCoy, 36, who performs at the club, described women in the industry as "strong and supportive".
She said financially the job had "transformed my family's world."
John Specht, Spearmint Rhino UK's vice-president, said the Sheffield club employs 13 staff and has 40 "entertainers", some of whom have worked there for "over a decade", the Local Democracy Reporter Service said.
"Contrary to what objectors say, they are respected members of the team and in their words they would not continue to work at Spearmint Rhino for the length of time they have if they did not enjoy it and did not consider themselves to be well-treated," Mr Specht wrote.
"To suggest they are mistreated or do not earn money is without any foundation."
Spearmint Rhino is Sheffield's only licensed strip club. Its sexual entertainment venue licence was renewed last year despite almost 100 objections.