Fake PC jailed for attempted Rotherham bank robbery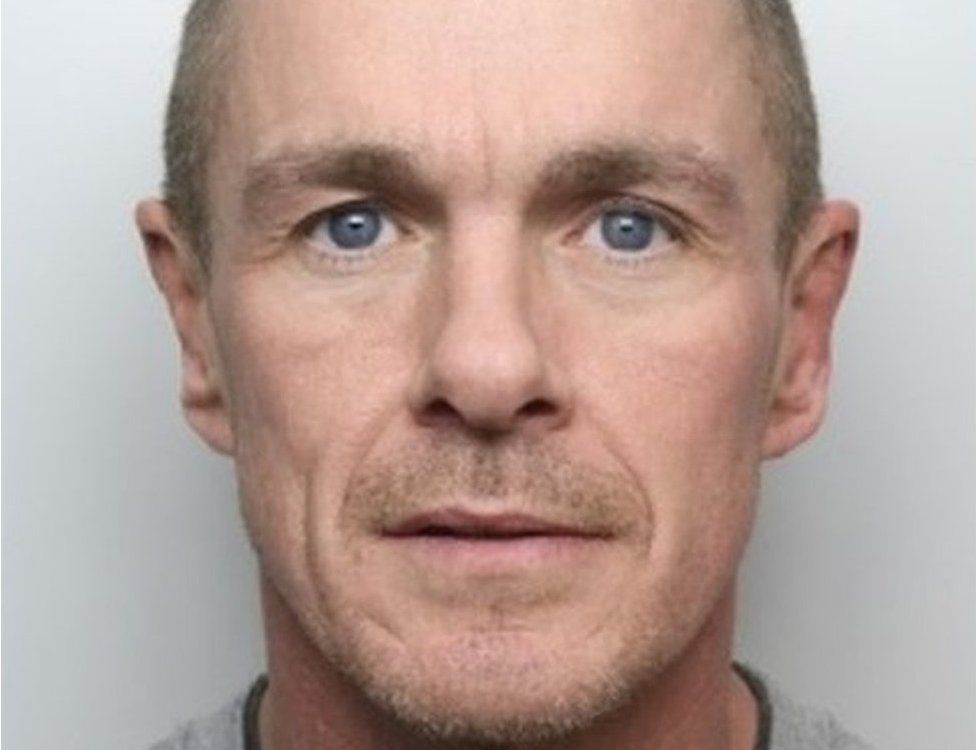 A would-be bank robber who dressed as a police officer to take three women and a girl hostage to try to steal £500,000 has been jailed for 23 years.
Michael Dunphy kidnapped a bank worker and her daughter as she picked her up from school in Rotherham in November.
At the bank Dunphy and the rest of the gang kidnapped two more employees and forced them to open the safe but fled empty handed when police were called.
Judge Robert Bartfield described Dunphy, 45, as a "chilling" individual.
Dunphy of Hyde, Greater Manchester, was jailed for 18 years with an extension period of five years at Sheffield Crown Court.
He was found guilty of four counts of kidnap and two counts of attempted robbery after a trial lasting two-and-a-half weeks.
During the trial jurors heard Dunphy had disguised himself as a police officer and also wore a wig and fake beard.
He then approached the bank worker as she dropped her eldest daughter off at school, claiming she had committed a driving offence.
The woman and her other daughter, neither of whom can be named for legal reasons, were then bundled into a stolen Audi car and driven to a branch of Barclays in Herringthorpe Valley Road.
The court heard a second bank worker, Zoe Copley, and the branch manager, Jo Blakey, were kidnapped near to the bank.
The mother and daughter and Ms Copley were then taken inside and forced to open the safe while Ms Blakey was held hostage outside by Dunphy's accomplices.
But, unknown to the gang, the bank worker's eldest daughter had alerted her school and the police after seeing her mother and sister being kidnapped.
As a result, as the safe was opening, officers managed to contact the bank worker, alerting Dunphy that police were on their way.
The gang then fled in the stolen Audi, which was later found burnt out in Wickersley. Dunphy drove back to Manchester where he was arrested two days later.
In a statement read out in court Ms Blakey said: "I used to think that this wouldn't happen to me, but the unthinkable did happen to me, my colleague and her daughter.
"I hope no-one else ever has to go through this."
The judge said Dunphy motivated by "sheer greed".
"To kidnap a mother and child as you did shows a determination well beyond that of a normal individual or even a normal criminal," he said.
"The events of that day will be forever etched upon the minds and souls of those who were involved."
Related Internet Links
The BBC is not responsible for the content of external sites.