Baroness Alice Bacon beer unveiled at Westminster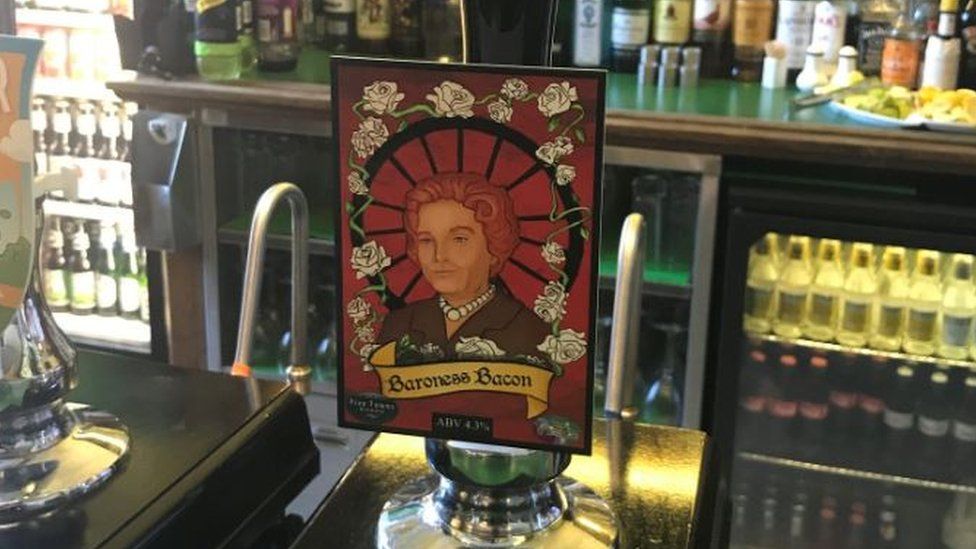 A special beer brewed with rhubarb has been unveiled to celebrate the achievements of Yorkshire's first female MP.
The 4.3% pale ale was brewed in honour of miner's daughter Alice Bacon, born in Normanton near Wakefield and elected as Labour MP in Leeds in 1945.
Baroness Bacon became a high-profile Home Office minister, overseeing the abolition of the death penalty.
Beer glasses were to be raised to her in Westminster's Strangers Bar.
The beer is already sold in bottles at working men's clubs in Normanton, originally opened by Baroness Bacon.
She grew up in a mining community during the 1930s depression and was elected Labour MP for Leeds North East in 1945.
Rachel Reeves, Labour MP for Leeds West who has written a Baroness Bacon's biography, called her a "pioneer".
"Alice Bacon was born into a world where women were unable to vote, yet went on to become Yorkshire's first female MP and a high-profile minister under Harold Wilson, spearheading the introduction of comprehensive schooling," she said.
Ms Reeves said she wants young people to "learn about [Baroness Bacon's] fantastic work" - which included legislation to decriminalise homosexuality and abortion.
After retirement she was made Baroness Bacon of the City of Leeds and Normanton.
Ms Reeves is the only other woman to have represented a Leeds constituency in the House of Commons.
Four kegs produced by Five Towns Brewery in Wakefield will be on tap in Westminster's Strangers Bar for the next week.
Related Internet Links
The BBC is not responsible for the content of external sites.