Bike-sharing scheme Ofo in Sheffield tackles vandalism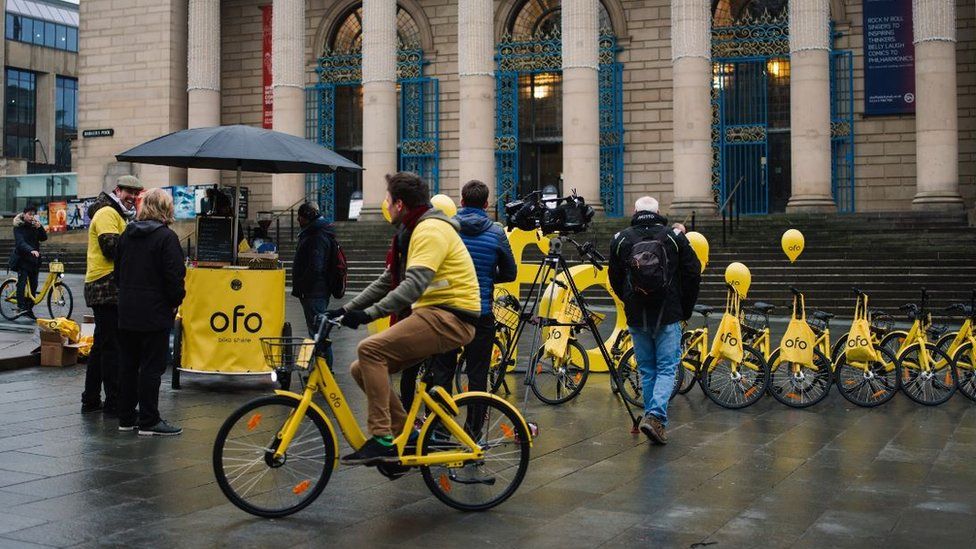 A bike-sharing scheme in Sheffield has launched a team to tackle high levels of vandalism to the bicycles.
There are 500 Ofo bikes around the city, which users unlock with an app before riding them and parking them anywhere for the next person to use.
Concerns have been raised about the number being vandalised, which is far higher than in other cities.
The team will now be working to collect damaged bikes and a telephone line has been set up to report vandalism.
Joseph Seal-Driver from Ofo said: "We brought Ofo to Sheffield to give people a fun, enjoyable and cheap way to get around the city.
"We're disappointed that vandals are choosing to spoil it for everyone else.
"Our rapid response team will be able to stamp out crime and we will be involving the police when we have evidence.
"I urge anyone who sees a distinctive yellow Ofo bike being vandalised to call us and the team will be on hand quickly to help."
Ofo bike schemes operate worldwide but in the UK they can be found in London, Oxford, Sheffield, Cambridge, Norwich and Leeds.
Since the bikes launched in Sheffield in January, they have been used thousands of times - 13,232 trips were made in the first month and more than 15,000 in February.
Ch Insp Stuart Walne, of South Yorkshire Police, said: "We won't tolerate crime and vandalism in Sheffield and will do all we can to bring prosecutions.
"Ofo's new rapid response team will be passing evidence to us and we'll be acting on it and working closely with the company."