MP Jared O'Mara's reveals suicide attempts after suspension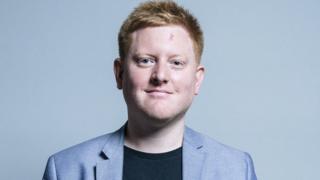 A Labour MP has revealed he attempted suicide after he was suspended from his party over a string of misogynistic and homophobic comments he made online.
Jared O'Mara, who won the Sheffield Hallam seat against Nick Clegg in 2017, was readmitted to the party last week nine months after his suspension.
He told ITV's Calendar he was "hounded by the press" and that he made three attempts to take his own life.
He said: "I was just a mess. I was shaking. I was crying."
More stories from across Yorkshire
The MP said: "I'll not mince my words. I made three attempts on my life.
"I was harassed and hounded by the press... I was too scared to go home."
Mr O'Mara said because of his experience he was encouraging people to be "open about issues around mental health and not to be ashamed about it".
He added: "The best thing that I've done this past year is learn to talk to my mum."
Mr O'Mara had not even made his maiden speech in the Commons when comments emerged that he made in his early 20s.
In posts made on the Drowned in Sound music website in 2004, Mr O'Mara claimed singer Michelle McManus only won the television talent show Pop Idol "because she was fat".
He also said it would be funny if jazz musician Jamie Cullum was "sodomised with his own piano" and joked about having an orgy with members of Girls Aloud.
Responding to the comments, the MP said he was "ashamed of the man I was" and said he grew up "in an era when lad culture and prejudicial language were normalised".
He told ITV he had "a lot of apologising to do" and was asking his constituents for their forgiveness.