Reinstated Labour MP Jared O'Mara quits Labour Party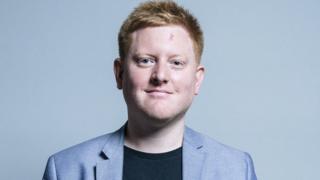 A Labour MP who was suspended over alleged misogynistic and homophobic comments has resigned from the party.
Jared O'Mara was suspended in October over a series of online posts and claims he verbally abused a woman.
He was reinstated on Tuesday with party officials saying he should attend training and be given a formal warning.
The Sheffield Hallam MP announced his resignation on his website, saying he had not been "listened to or been given a fair investigation" by Labour.
Yorkshire breaking news: Steelworkers join Trump protest; 'Little scrutiny' of emaciated teen
He said he intended to continue as MP for the constituency.
In the open letter to his constituents, Mr O'Mara apologised for any offence his online comments from 2002 and 2004 had caused, but added: "I didn't commit any crimes, yet I have been made unfairly to feel like a criminal.
"Nobody should be made to feel ashamed for mistakes they make when they are young."
'Read about autism'
Mr O'Mara claimed "the Labour Party no longer shares my commitment to the true definition of equality and compassion".
"I would be lying to those of you whom I represent, and those close to me like my parents and sister respectively, if I continued under the pretence that I feel there is a place of acceptance and empathy for me as a working class, underprivileged disabled man within the Labour Party," he said.
"I have experienced little to make me feel welcome, understood and accepted during this last year."
The 36-year-old politician, who has autism, asked people in his statement "to go on the internet and read about autism, and about my other disabilities; clinical depression, cerebral palsy and anxiety".
A Labour Party spokesperson said: "We're disappointed Jared has decided to resign from Labour after we won the Sheffield Hallam seat from Nick Clegg and the Lib Dems last year.
"We wish him well for the future."