Tour de Yorkshire delayed Barnsley road repairs 'by months'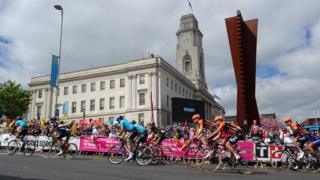 Essential road repairs were delayed for months because streets were prioritised for the 2018 Tour de Yorkshire cycle race, councillors have heard.
Speaking in a Barnsley Council highways meeting, Penistone town councillors said they were "exasperated" by the quality of pothole repairs.
Penistone, on the edge of the Pennines, particularly suffered from the delays.
But Barnsley Council said the delays should also be blamed on "the Beast from the East" in early spring.
Penistone councillors told Barnsley's principal highways maintenance engineer, Steve Croft, that some pothole repairs had only lasted a few hours, the Local Democracy Reporting Service said.
Councillor Graham Saunders said "within a day or so [the repair] was all in the gutter", while Councillor Steve Marsh said: "You see a couple of blokes turn up in a lorry, chuck some asphalt in and pat it down. Within an hour or two it's back out."
Mr Croft said repairing potholes in winter failed when water froze and pushed the asphalt out.
He said severe weather in February and March meant planned work could not finish before the new financial year in April.
By then, focus had shifted to Tour de Yorkshire cycle routes including Upper Sheffield Road near Barnsley town centre and Sheffield Road at Hoyland Common, ahead of the Barnsley to Ilkley race on 4 May.
Roads 'deteriorated rapidly'
As a result, Huddersfield Road in Penistone "deteriorated rapidly" and repairs could not be carried out because of the weather.
The road, a main route for high-sided lorries, will now be repaired in October.
From autumn, Barnsley Council will use a new system of checking roads, so a team will more frequently check roads they believe to be most likely to experience problems and another team will make repairs, sometimes within hours for serious problems.
Barnsley councillor Roy Miller said: "Pothole repairs were carried out throughout winter and early spring and the road was listed for resurfacing work.
"Weather conditions prevented resurfacing before April, while pothole repairs continued as required. To minimise disruption to Penistone Grammar School, resurfacing is scheduled to take place during the next available school holiday period in October.
"Many of the roads along the Tour de Yorkshire route had already been identified for planned works in 2018/19; it would be misleading to suggest that this affected or delayed works in Penistone or other areas."