MP Jared O'Mara to cut back duties on health grounds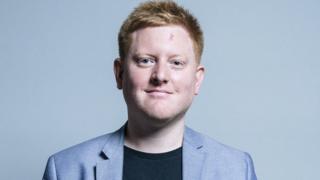 MP Jared O'Mara is to step back from parliamentary duties on the advice of his GP for the second time in eight months.
The Sheffield Hallam MP said the decision followed a "deterioration" in his health and wellbeing.
Mr O'Mara resigned from the Labour Party on Thursday just days after his suspension from the party was lifted.
The BBC understands Mr O'Mara will continue to carry out constituency work during his absence from Parliament.
He said in a statement: "Following a deterioration in my health and wellbeing over the past few days, and following a consultation with my GP, I have been advised to curtail my parliamentary duties in Westminster for the time being."
His non-attendance at Westminster coincides with a series of key Brexit votes.
Working hard
Mr O'Mara said he had enquired about the possibility of participating in votes despite his absence, but had been told it was not possible.
He said: "I am very disappointed that I have been excluded from being allowed to represent my constituents in Sheffield Hallam in such a way.
"I will continue to pursue this matter and am working hard to get myself back to full health."
A spokeswoman for the Speaker's Office said: "The Speaker has no power to allow absent Members to vote by proxy."
Mr O'Mara was suspended from the Labour Party in October over alleged homophobic and misogynistic comments, but following an investigation he was reinstated on 3 July.
He was previously signed off work in December.