Barnsley arson attack kills dozens of doves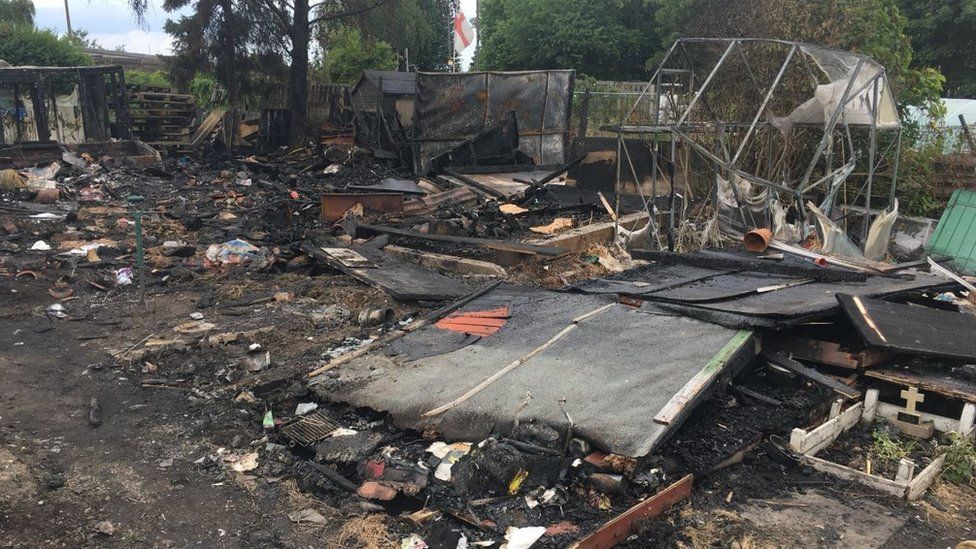 A bird breeder has spoken of his anger after more than 30 of his doves were killed in an arson attack on an allotment.
Paul Hilton watched as sheds and greenhouses blazed on the allotment plot in Barnsley, South Yorkshire on Tuesday night.
"Surely there isn't a human being who would purposefully do that, set fire to a set of birds," he said.
South Yorkshire Fire Service has confirmed it was a "deliberate fire".
"My initial instincts were to try to save my birds," Mr Hilton said.
"I've got some young 'uns and I could hear them squeaking and squawking, it was horrible."
CCTV pictures showed a person starting a fire, he said.
Mr Hilton said he had recently built a new dovecote.
Eyewitness Lenny Herbert said: "It was an inferno, it was blazing, his birds had no chance.
"He tried to get them but no chance."
Mr Hilton said he had been "overwhelmed" by the response after the 34 birds - some of which were used at weddings and other ceremonies - died.
A fundraising appeal has so far raised more than £800.
"There is some good out there...there is community spirit", he added.