Barriers raised at Doncaster crash level crossing says report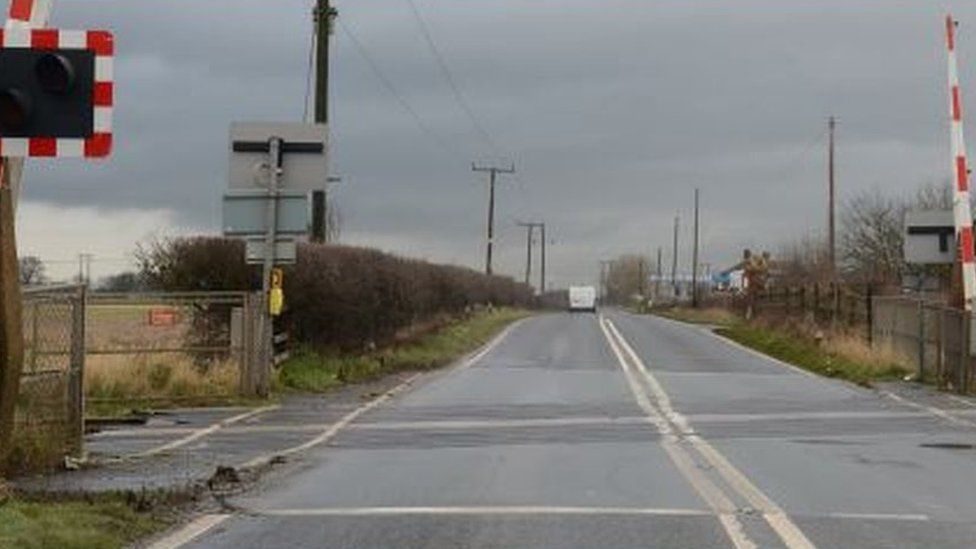 A driver "was lucky to escape with her life" when she hit a stationary train on a level crossing, a report has said.
The barriers were raised at the time of the accident - in the early hours of 11 January at Stainforth Road level crossing in Doncaster, South Yorkshire.
The crossing's circuits were 40 years old and had not been upgraded despite similar incidents elsewhere, said the Rail Accident Investigation Branch.
Network Rail said it took safety "extremely seriously".
It had worked alongside the investigation, it said.
"We work hard to prevent incidents like this happening and have already started to implement some of the recommendations made by the report", said a Network Rail spokesperson.
The driver suffered scratches and bruises and her car was a write-off.
Simon French, chief inspector of rail accidents, said: "To find part of a freight train, stationary and with no visible lights, looming out of the darkness on a level crossing in the early hours of the morning, must have been a truly terrifying experience.
"The driver of the car that hit this train was lucky to escape with her life."
Mr French said there was no warning of the stationary train, the barriers had risen and the lights had stopped flashing more than a minute before the car approached it.
The crossing's control circuits dated back to 1974 and had not been modified to make sure trains were clear of a crossing before it re-opened.
It was "an old design which presented a risk to the safety of the public", the report said.
Related Internet Links
The BBC is not responsible for the content of external sites.