Action plea on Barnsley Gilroyd 'jungle' playing fields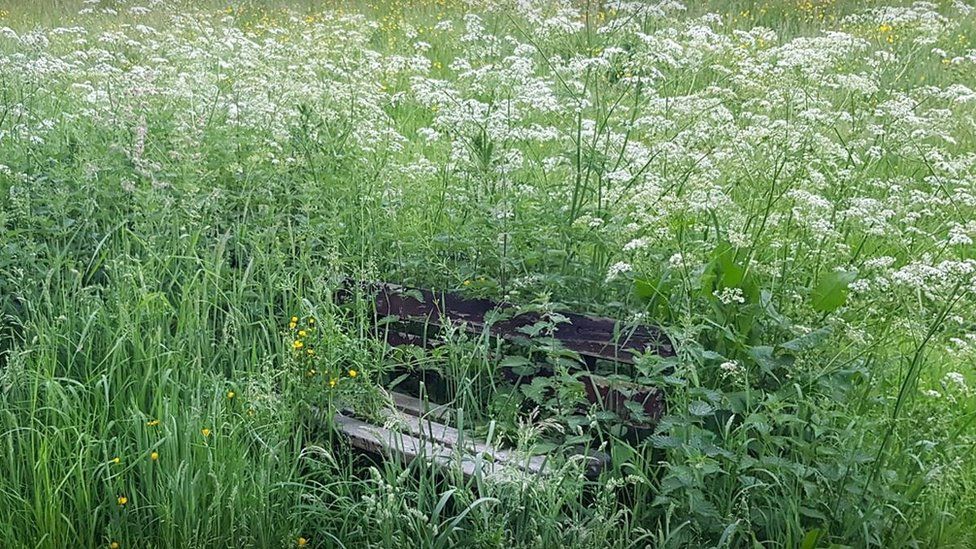 Campaigners are calling for action to restore council-owned playing fields which have become so overgrown they have been nicknamed a "jungle".
The grass has grown so high in the fields at Gilroyd in Barnsley that it towers over benches and goal posts.
Resident Phil McNulty said: "These playing fields are where I spent hours playing as a kid in the 80s and 90s and now there's fly-tipping and dog poo."
Barnsley Council said the grass was due to be cut next week.
Mr McNulty said the authority had neglected the area all year and that residents had been left with "Gilroyd jungle" which he described as a "grim place".
More than 300 people living nearby have joined a Facebook group, set up in a bid to get the council to better look after it.
Mr McNulty said although the authority had pledged to cut the grass their response was too little too late.
"My son has not been able to play in those fields all year.
"The work wasn't done in time for the half term in April nor the half term in May and I pleaded with them to do it.
"We've had the most beautiful late spring and summer and no-one has been able to a kick a football or hit a rounders bat."
Councillor Jenny Platts, cabinet spokesperson for communities, said: "The grass on these fields was due to be cut at the beginning of the year, but it was too wet to do so.
"We will be cutting the grass in this area next week for the start of the summer holidays and during school holidays thereafter."
Related Internet Links
The BBC is not responsible for the content of external sites.