Brendan Ingle Sheffield memorial backed by boxers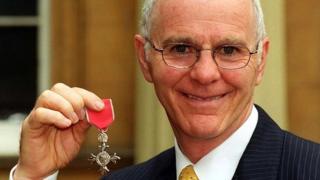 Former boxing world champions have backed plans for a permanent memorial to trainer Brendan Ingle in Sheffield.
Ingle, who died in May aged 77 from a brain haemorrhage, guided fighters Naseem Hamed, Johnny Nelson, Kell Brook and Junior Witter to world titles.
His family aims to raise £100,000 for a memorial featuring a statue of Ingle stood on the edge of a boxing ring.
Brook, the former IBF world welterweight champion, said: "He's got to be remembered forever."
Read more stories in South Yorkshire
The trainer and former boxer was born in Dublin and moved to Sheffield aged 18 in search of work.
Living in the Wincobank area of the city, in 1964 he converted a church hall and opened the now-renowned Ingle Gym.
After fighting as a professional middleweight, he turned his full attention to training other boxers.
The designer Gordon Young was chosen by Ingle's family to work on a plan for a memorial, with a "square ring" design featuring a statue of Ingle put forward.
A location for the memorial is yet to be confirmed, with a road named "Ingle Way" also being planned.
Appearing at a launch event for the memorial along with fellow boxer Johnny Nelson, Brook said: "Brendan's been involved in so many people's lives, so every time people drive around this area or think about Sheffield we want people to think about him.
"He's a super-duper individual and he's got to be remembered forever."
Bridget Ingle, Brendan's daughter, said: "He was Sheffield through and through, so there's nothing better than having a memorial celebrating many aspects of Sheffield and Brendan.
"This will carry on Brendan's memory and give us a warm feeling about the future."