Sheffield Slip and Slide Fest 'descended into chaos'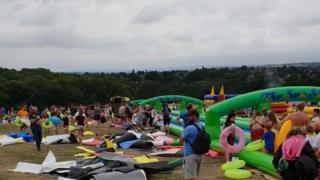 A water slide event has faced a tide of complaints from frustrated parents after reports of long queues and low water pressure.
Sheffield Slip and Slide Fest brought a 1,000ft inflatable slide to Graves Park on Sunday and told attendees to prepare for the "best time of your life".
Instead, dozens of parents complained of disorganisation, with one man claiming it "descended into chaos".
The organisers said "the planning did not go to plan" and apologised.
Messages sent to the event's Facebook page included complaints about a two-hour queue, no changing facilities and children colliding with queue-jumpers climbing on to the slide half-way down.
Dan Wall, from Ecclesfield, took his wife and two children to the event after spending £50 on tickets from an online agency.
He said: "It was just disorganised, eventually descending into chaos where I didn't feel safe letting my children go on the slide.
"The problem was the water pressure - they have these huge firemen hoses and it was just bobbling along like a half-filled water balloon."
Commenting on Facebook, Lisa Cox described the event as a "total shambles from start to finish".
"There was a lack of supervision on the slide and other bouncy activities which resulted in children's safety put at risk," she wrote.
Learn from mistakes
Leon L'Homme, director of the Sun Slider event, said: "I do sincerely apologise for today and the planning did not go to plan."
The company promised to provide refunds for tickets, which cost £21.50 for adults, £16.50 for children, and £59.40 for a family pass.
"It was our first event and we understand the issues that were raised, we will take on board the negative comments and understand everyone's anger and frustration," Mr L'Homme said.
He added: "Everyone learns from their mistakes and we definitely have."