Sex abuse scandal Rotherham council set to run own services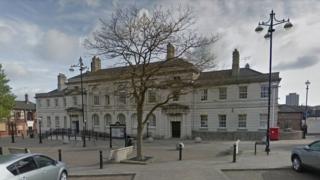 Rotherham council is set to be given back the running of its services from government commissioners appointed after a child sex abuse scandal.
The South Yorkshire authority has been under government control since February 2015 after its handling of child sexual exploitation in the town.
James Brokenshire, the Communities Secretary, said: "The council has made strong progress."
The council said it was "on the right track".
The government control of Rotherham followed an independent report by Professor Alexis Jay that revealed 1,400 girls had been sexually abused in the town between 1997 and 2013.
Ministerial statement
Mr Brokenshire said: "Vulnerable young people were repeatedly failed in Rotherham, which is why the government stepped in to ensure these errors can never occur again."
The council will have to undertake an independent review before 31 March 2019 as a condition of the announcement, given in a written ministerial statement.
Selected council functions have been returned during 2016 and 2017.
Chris Read, the council leader, told the Local Democracy Reporter Service: "This is recognition of all the work that has gone in.
"People are very familiar with the failings which happened in Rotherham. A lot of people stepped up to face that, and we know we have been on the right track."
A final decision is due by the government in September.