Speeding driver boasted after killing man in Rotherham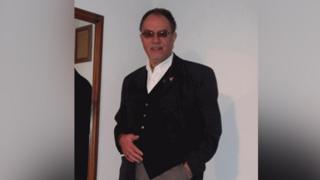 A speeding motorist boasted about his driving on social media after killing a pedestrian, a court has heard.
Joshua Mewes, 21, was driving at 65mph in a 30mph zone when he hit Robert Kolt in Rotherham on 18 March 2017.
He was jailed for four years at Sheffield Crown Court after admitting death by dangerous driving at a previous hearing.
Judge Jeremy Richardson QC said Mewes took "grotesque pride in his appalling behaviour".
Mewes, of Highfield Park, Maltby, South Yorkshire, was 20 years old when he struck and killed Mr Kolt outside Silverwood Miner's Welfare, on the A630.
The court heard it was dark and wet and one witness described him driving "like a bat out of hell" as he "ran down" Mr Kolt, who had just got off a bus and was crossing the road.
Judge Richardson said Mewes was a "deeply unpleasant individual" who had a "habit of driving aggressively and far too fast", which he celebrated on Facebook.
'Deplorable' driving
Screenshots of his Facebook posts were gathered by police.
Referring to the images, the judge said: "These reveal you to be a man who liked to speed and drive aggressively and took some pride in all of this.
"You posted Facebook entries before and after you killed Mr Kolt.
"Your insensitivity defies understanding at least and, at worst, reveals your arrogance and defiance."
Judge Richardson described the 21-year-old as an "unquestionably arrogant and a habitually aggressive driver" who's "appalling driving" had caused Mr Kolt's death.
He further described his motoring actions as "deplorable" before handing down the sentence, which included a nine-year driving ban.
Mewes must also sit an extended test before he can drive again.