Sheffield dental student guilty of terror funding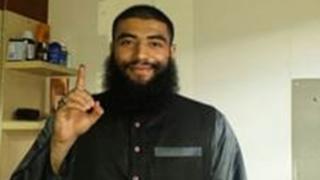 A dental student has been found guilty of sending money to Syria to fund a terrorist group fighting to establish an Islamic state.
Abdurahman Kaabar, 23, sent money to his brother Mohammed after he left the UK to join Jabhat al Fateh al Sham.
Sheffield Crown Court heard Kaabar had told friends the Manchester Arena bomber Salman Abedi should be rewarded and "we need an Islamic state".
Kaabar, from Sheffield, was convicted of two counts of funding terrorism.
More stories from across Yorkshire
The student, who was in his first year of a dentistry degree at Plymouth University, pleaded guilty before the trial to three counts of possessing terrorist material and 12 counts of disseminating a terrorist publication.
He admitted distributing documents, including to Mohammed Awan, who was jailed for 10 years in December for preparing to commit an act of terrorism in the UK.
During the trial, jurors heard Kaabar's younger brother, Mohammed Kaabar, had left the UK in March 2016 to fight against the Syrian government.
Mohammed Kaabar sent WhatsApp messages to a friend to say he went to "live amongst the Muslims and support and defend them with everything we have".
He went with another man, Ahmed Hadrami, who sent messages to say he went to Idlib in north-west Syria "to sacrifice myself for Allah's religion".
'Radical mindset'
Kaabar together with another man, Badroddin Kazkaz, 23, also from Sheffield, sent money to his brother between September 2016 and January last year.
He said he believed his brother wanted the money for "medicinal purposes".
A second transfer was planned but did not take place.
Kazkaz, who admitted one count of funding terrorism, sent a message to Kaabar on 3 January 2016 saying "Alhamdullah (sic) at least we do jihad with our money".
Both men will be sentenced on 25 September.
Det Supt Simon Atkinson, head of investigations at Counter Terrorism Policing North East, said: "Kaabar had a radical mindset and an active interest in extremism. He was not only in possession of terrorist material, he was also sharing it and encouraging others to carry out terrorist activity.
"Kaabar and Kazkaz both transferred money to Kaabar's brother, believed to be fighting in Syria.
"It is highly likely that they would have at least suspected that the money would be used to further the cause of terrorist groups and potentially fund terrorist activity."