Avian botulism kills 30 swans in South Yorkshire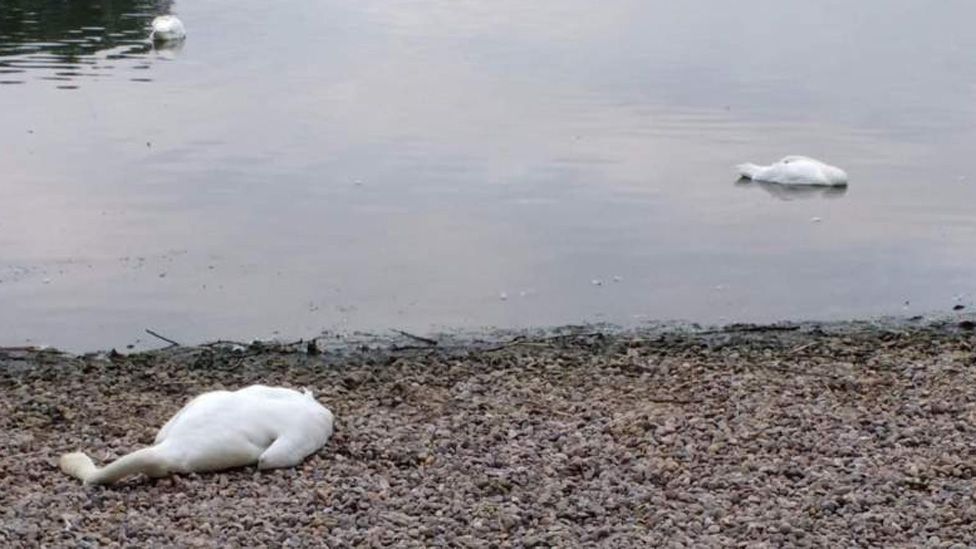 An outbreak of avian botulism has killed more than 30 swans at a beauty spot over the last few weeks, according to the RSPCA.
One person described the scene as "looking like a horror movie" after more birds died at Lakeside in Doncaster over the bank holiday weekend.
The RSPCA said two more sick birds were removed and put down on Monday.
A government health agency said the risk to human health was "very low".
RSPCA inspector John Gibson said the illness was down to the recent hot weather causing low water levels that led to rotting vegetation increasing the level of toxic algae.
"We have rescued a number of swans and other water birds who are responding well to treatment but many more have been found dead or had to be put to sleep," he said.
"We are removing the bodies as not doing so is known to increase the concentrate of the toxin and are urging people not to feed the swans."
On its website, the government's Animal and Plant Health Agency said "avian botulism has not been reported to be associated with human disease" and the risk to human health is "considered to be very low".
However, it cautions that people and pets should stay out of water "where affected/dead birds have been found".
Local resident Denise Marshall described the swans' deaths as "just awful".
"I've been told by two women who live here that this has been going on for five weeks," she said.
In a statement, Doncaster Council said: "The water has been treated with a non-toxic and eco-friendly blue-green dye to control aquatic weeds that can sometimes cause other problems.
"It is not harmful but we would recommend that residents and their pets do not go in the water."
Related Internet Links
The BBC is not responsible for the content of external sites.