Tribute paid to dead base-jumping father of two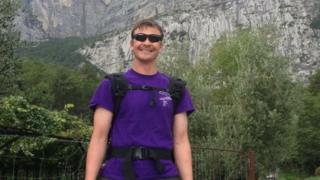 The family of a father of two who died while base jumping in the Swiss Alps has paid tribute to his "life-long love" of sport.
Mark Hart, 44, from Sheffield, died during a jump in the Lauterbrunnen Valley on Sunday.
The extreme sport involves jumping from cliffs, mountains or buildings wearing a wing suit or using a parachute.
Mr Hart, who had two young daughters, knew base jumping was "inherently high risk", said his family in its tribute.
Mr Hart, 44, lived with his fiancée and three-year-old twins and was "a devoted dad", the family statement said.
His sporting career begun as a child with a love of gymnastics that "started a life-long love of sport and adventure".
Mr Hart had climbed often in the Peak District and also had snow-boarded all over Europe. He had won the British Snowboarding Championship seven times, his family said.
When a knee injury stopped him snowboarding he turned to climbing and sky-diving where he had more than 250 dives.
He started base jumping in 2015 and had taken part in more than 175 leaps.
"Mark knew his own abilities and the risk factors and always discouraged anything that was beyond the ability or experience of the jumper," his family added.
Base is an acronym for the four categories of fixed objects that are jumped from: building, antenna, span, and Earth.