South Yorkshire Police tattoo rules 'could reduce public support'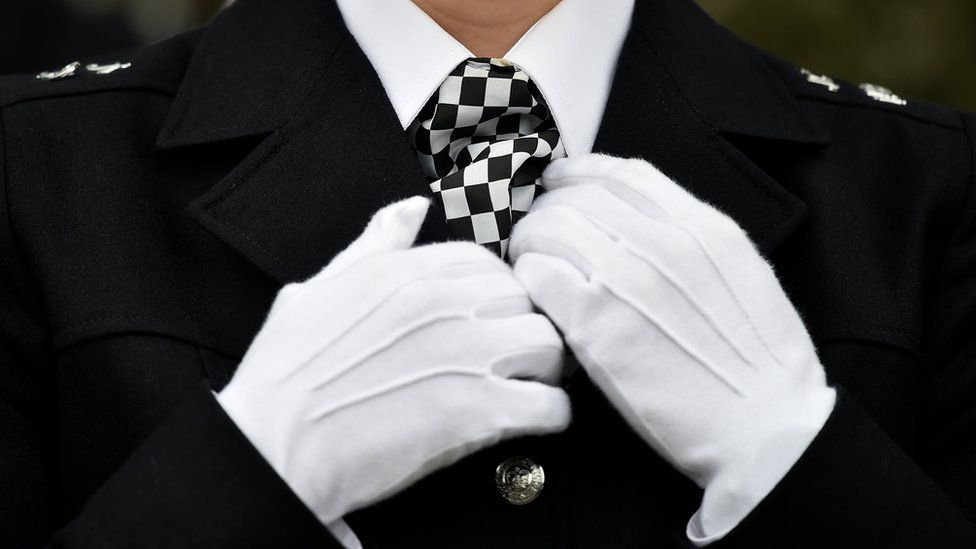 A ban on police officers and staff having tattoos and dyed hair may lead to a loss of public support as they "will not reflect the community they serve" a union has said.
South Yorkshire Police says face, neck or hand tattoos and "extreme and vivid" hair colours are not permitted.
Unite has described the policy, which applies to both officers and civilian staff, as "draconian".
The force said it was "wrong" to say the policy could affect public trust.
The Appearance and Standards code, which was introduced earlier this year, applies to all officers and staff, including those in non-public facing roles.
A uniformed officer's hair should be cut so that it is secured above the collar and ears... and should be of natural colours
An unshaven/stubbly appearance is unacceptable unless growing a beard or moustache
Lengthy beards are not acceptable for health and safety reasons
Tattoos visible on the face, neck, hands or head are not permitted
Tattoos visible in normal duty uniform, such as those on forearms, should be covered at all times by those in public facing roles
Other rules around footwear, jewellery and make-up have also been introduced.
The policy states some breaches of the rules may be deemed to constitute gross misconduct and could result in dismissal proceedings.
Unite regional officer Shane Sweeting said: "This is a draconian policy which is entirely unnecessary.
"The rules on matters such as tattoos and hair colouring mean that South Yorkshire police and police staff will not reflect the community they serve, which is essential to gain the support of the general public."
South Yorkshire Police said the policy was part of a wider drive to "achieve excellence in all aspects of our performance" and distinguishes between what is appropriate in public and non-public facing roles
Chief Constable Stephen Watson, who sanctioned the change in policy, said: "What is described as 'draconian' in some quarters represents no more than a clear and reasonable set of expectations as to the professional appearance of our staff.
"The policy is designed to ensure that all of our staff adhere to what might reasonably be expected of a professional, modern and disciplined service."
Related Internet Links
The BBC is not responsible for the content of external sites.