South Yorkshire rail hub officially opened by Princess Royal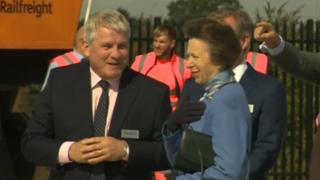 The first inland rail freight terminal to be built in the UK for more than ten years has been officially opened by the Princess Royal.
The facility is part of the larger iPort development near Doncaster, which is already home to giant distribution depots for Amazon and Lidl.
Developers claim the entire site could create around 5,000 new jobs.
The £14m rail hub was opened in a ceremony attended by Princess Anne.
Steve Freeman managing director of the rail hub said the first train to use the new facility was due to arrive next week.
"It's got the potential to boost the economy hugely in this area," he said.
"For each train that we can get in here, we take about 70 lorries off the road and we can take about five or six trains a day at this current state."
The iPort development is located near to the M18 motorway and Doncaster Sheffield Airport.