'Spice Zombies' photos harm addicts, council says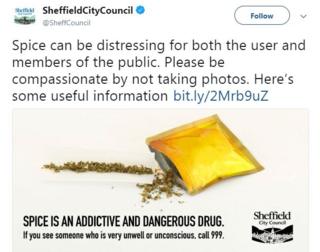 People have been urged not to post photos of Spice "zombies" online.
Images of people collapsed in the street or slumped on benches after taking the synthetic cannabis substitute are often widely shared online.
Sheffield City Council has launched a campaign asking people to be "kind not cruel" and refrain from taking photos.
Helen Phillips-Jackson, from the council, said users needed encouragement rather than ridicule.
Spice, a former "legal high" is an illegal psychoactive substance, designed to mimic the effects of cannabis, but can have severe debilitating effects.
Latest news and stories from across Yorkshire
Ms Phillips-Jackson said sharing photos of addicts - often referred to as "zombies" due to state the drug induces - "prohibits recovery".
"These people are vulnerable and addicted," she said. "They're not having a great time at all."
The council's social media campaign asks people to "be compassionate" and not take photos of users.
Rather than taking a "softly softly" approach and "downplaying" the problem, Ms Phillips-Jackson said, the council was "just asking for a bit of humanity".
"It is shocking to see people in those states," she said.
"We're not asking anyone to help proactively but we've all felt desperate for one reason or another."
---
'Numb and emotionless'
Former Spice user Jordan Walker, 19, said the drug makes you "calm, numb and emotionless" but is also highly addictive and has "horrific" withdrawal symptoms.
Spice was classed as a legal high until May 2016 when the new Psychoactive Substance Act was passed.
"The first time I took it, I woke up in hospital," Mr Walker said. "I just needed to smoke it to feel better. You don't feel better until you've had a spliff."
He said withdrawal lasted three to four weeks and included nightmares, vomiting in his sleep and anger.
But since accessing services 18 months ago, Mr Walker has been clean.
---
Drug worker David Rourke said he sees users switching to crack or heroin because the withdrawal symptoms are more manageable.
"Heroin withdrawal takes about a month, with five to six days of really intense physical withdrawals.
"But with Spice it's six weeks. Some are using heroin and crack as a platform to spice recovery."
Recovering heroin addicts are prescribed methadone, little research has been done into the relatively new Spice, and no alternatives are available.
Mr Rourke also said Spice was "really cheap" compared with other drugs.
"And the high, escapism, that's really hooking people in," he added.
The authority has now trained 400 people in how to deal with Spice users.