Sheffield student's MDMA death: Dealers are jailed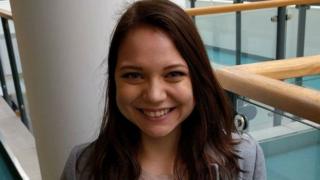 A drug dealer and her supplier have been jailed for providing MDMA to a university student who died.
Joana Burns, 22, died after taking the Class A drug, also known as ecstasy, on a night out in Sheffield to celebrate finishing her maths degree in 2017.
Katherine Lavin admitted supplying her friend with the drug, while Benjamin Williams admitted supplying Lavin.
Bar worker Williams was jailed for two and a half years and Lavin was given a six-month sentence.
Lavin, 21, of Kentmoor Close, Stockport, admitted supplying a controlled Class A drug and possession of cannabis.
Williams, 25, of Melbourne Road, Sheffield, pleaded guilty to supplying a controlled Class A drug.
On the night she died on 6 June, Miss Burns had gone out with friends, including Lavin, at Sheffield University Students' Union.
The Sheffield Hallam University student, who was originally from Alfreton, Derybshire, was at The Foundry when she collapsed.
The court heard Lavin had collected a quantity of ecstasy for a group of Sheffield Hallam University friends, including Miss Burns, who all took the drug willingly.
Sentencing the pair, Judge Jeremy Richardson QC, told Lavin: "Quite how an intelligent young woman, as you are, could do such a foolish thing is almost beyond understanding.
"This case is a tragedy in every dimension.
"You have wrecked your future."
In May, an inquest heard Lavin bought the ecstasy in powder form, which the friends made into "bombs" using cigarette paper.
A South Yorkshire Police report found they each paid £7 for the drug.
Miss Burns was said to have taken the drug willingly before the club night, and then took another in the early hours.
Witnesses said she vomited the second "bomb" straight back up before having a seizure, resulting in her being taken to hospital.