Sheffield council back down over 'dangerous' dahlias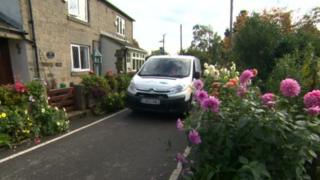 A council has backed down over plans to rip out a couple's roadside flower beds.
Brian and Sally Williams were told by Sheffield Council the blooms, which they have tended for decades alongside the narrow Hollin House Lane near Sheffield, must be removed.
But Councillor Jack Scott has now said the display looks "absolutely great" and the council should "think again".
Officers initially said the verge could be a danger to road users.
Mr and Mrs Williams have been looking after the colourful display outside their cottage in Loxley for 28 years.
Mr Scott said the officer who decided action must be taken was acting "with the best of intentions", but now discussions must be held to find a "common-sense" solution.
More stories from across Yorkshire
Mr Scott, council cabinet member for development and transport, said: "The displays look absolutely great. This issue has come about because a local resident complained they were restricting access. I'm sure the officer's decision to take action was made with the best of intentions.
"I've told the department that we need to think again and find a common-sense way forward."
Mr and Mrs Williams "can be assured the verge on Hollin House Lane will not be removed without further discussion", Mr Scott added.
A petition to stop the council has raised nearly 5,000 signatures.
Mrs Williams said: "In the city where we live we are experiencing drug abuse, stabbing, violence, surely an area of tranquillity, beauty, environmentally beneficial should be encouraged".