Rotherham child sexual abuse: Gang of seven guilty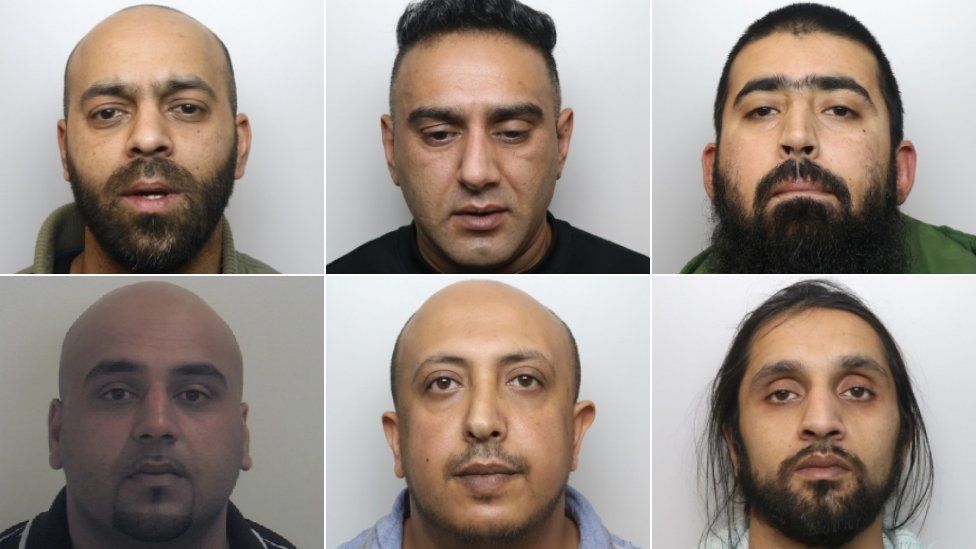 Seven men have been found guilty of grooming and exploiting young girls, including one who was sexually abused by "at least 100 Asian men" before the age of 16.
Sheffield Crown Court heard how the men targeted and exploited the teenagers before subjecting them to acts of a "degrading and violent nature".
They abused five young girls over a seven year period in Rotherham.
The gang were convicted of offences including rape and indecent assault.
One girl described being bitten and raped by two of the men in Sherwood Forest while "high as a kite" on drugs.
Mohammed Imran Ali Akhtar, 37, Asif Ali, 33, Tanweer Ali, 37, Salah Ahmed El-Hakam, 39, Nabeel Kurshid, 35, Iqlak Yousaf, 34, and a seventh man, who cannot be named for legal reasons, were convicted after a trial.
An eighth man, Ajmal Rafiq, 39, was found not guilty of one count of false imprisonment and one count of indecent assault.
The men are due to be sentenced on 16 November.
The convictions are the latest to come out of Operation Stovewood, the National Crime Agency's (NCA) investigation into child sexual exploitation in Rotherham, which has identified more than 1,500 victims.
During a trial lasting more than eight weeks the jury heard the men, who are all of British Pakistani heritage, preyed on the girls' vulnerability before they were sexually assaulted and passed on to other men.
Prosecutor Michelle Colborne QC said the girls had been "lured by the excitement of friendship with older Asian youths" but were then "targeted, sexualised and in some instances subjected to acts of a degrading and violent nature".
She said: "None of them had the maturity to understand that they were being groomed and exploited, often believing that sex of some kind was a necessary price for friendship."
What is Operation Stovewood?
Operation Stovewood is the largest law enforcement investigation into non-familial child sexual exploitation in the UK.
It began in 2014 after a report found at least 1,400 children in Rotherham were the victims of abuse between 1997 and 2013.
It is run by the NCA, which is working with 296 alleged victims, has identified 151 suspects and is running 22 ongoing investigations.
More than 150 officers work on the operation and there are plans to recruit another 100.
It is jointly funded by South Yorkshire Police and the Home Office and when up to full strength will cost £15m a year to run.
It has led to 14 convictions so far, and 24 more people have been charged with offences.
The court head the men used alcohol, drugs, threats and violence to control the girls.
On girl said Ali Akhtar regularly threatened to dump her in remote locations if she did not have sex with him and his friends and on one occasion he abandoned her by the side of a motorway.
The same girl said Ali Akhtar would take her to meet older Asian taxi drivers who would then abuse her.
Another recounted how as Tanweer Ali raped her in the back of a car he told her: "It's better you just get it over and done with and then you can go back home".
The court heard some of the girls had already been exploited by other men in Rotherham.
The girls were abused in locations across Rotherham, the court heard, including at the tip in Rawmarsh, in a supermarket car park, and at Clifton Park and Ulley Country Park.
One girl, who was 14 at the time, was given cannabis and driven to Sherwood Forest by Nabeel Kurshid, Iqlak Yousaf and a third man.
The men then took turns raping her, warning her that if she did not do as she was told she would be left there.
Ms Colborne said the girl became pregnant as a result of the attack and was forced to have a termination.
The men denied the offences, claiming either the girls were lying or what had happened had been consensual.
However, in July 2015 Ali Akhtar was recorded by one of the victims as he tried to find out if she had spoken to the police.
In the recording he said: "The thing is that was a wrong time when Shatan [the devil] whispers to you and says to you: 'Enjoy life, take drugs'. He wants you to do haram [acts forbidden by Allah]."
He went on to suggest that other girls had come forward in order "to get some coin".
Mike Duffy of the Crown Prosecution Service (CPS) said: "These men deliberately preyed on young, vulnerable teenagers, grooming and exploiting them.
"They denied the abuse but evidence put forward by the CPS, including the victim's accounts of the incidents, resulted in the jury finding them guilty.
"I would like to thank the victims who came forward and bravely supported this prosecution."
Mohammed Imran Ali Akhtar, 37, of Godstone Road, Rotherham, was found guilty of one rape, one charge of aiding and abetting rape, three indecent assaults, one charge of procuring a girl under 21 to have unlawful sexual intercourse with another and one sexual assault
Nabeel Kurshid, 35, of Weetwood Road, Rotherham, was found guilty of two rapes and one indecent assault
Iqlak Yousaf, 34, Tooker Road, Rotherham, was found guilty of two rapes and two indecent assaults
Tanweer Ali, 37, of Godstone Road, Rotherham, was found guilty of two rapes, two indecent assaults and one charge of false imprisonment
Salah Ahmed El-Hakam, 39, Tudor Close, Sheffield, was found guilty of one rape
Asif Ali, 33, of Clough Road, Rotheham, was found guilty of two indecent assaults
A seventh defendant, who cannot be named, was found guilty of two rapes
Related Internet Links
The BBC is not responsible for the content of external sites.