South Yorkshire Police to use spit hoods following trial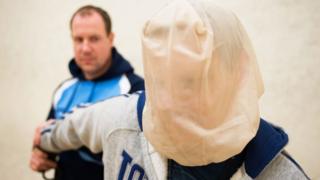 Spit hoods are to be issued to all South Yorkshire Police officers following a trial of the mesh guards.
The transparent mesh fabric hoods are used to prevent those arrested from spitting or biting officers.
They have been trialled in South Yorkshire's custody areas and by staff transporting prisoners.
A hood was used in 15 spitting incidents in custody suites and nine during transportation in a six month period since January.
During the same period there were 219 incidents of police officers being spat at, a report to a South Yorkshire PCC panel reveals.
Members noted there had been no adverse outcomes where the hoods had been used.
The PCC's independent ethics panel was told on Monday that "the use of a spit guard facilitates less intrusive engagement, allowing police officers still to communicate with the individual whilst he or she is wearing a spit guard."
The force has 121 custody staff and 1,326 officers trained to use the guards. According to the Local Democracy Reporting Service they will be issued to all operational officers.
Home Secretary Sajid Javid has backed calls for spit and bite guards across all police forces in England and Wales.
The Metropolitan Police has decided against front line officers using the hoods.