Rotherham steel works: Houses 'shook' after explosions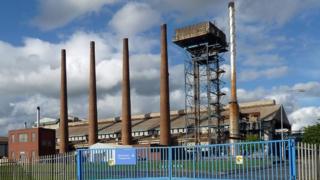 A series of explosions at a steel works caused houses to shake, residents have said.
Dozens of people took to Twitter after the loud bangs were heard from Liberty Steel in Alwarke Lane, Rotherham, South Yorkshire, on Wednesday night.
The fire service and police were called but said the explosions were caused by water mixing with molten steel and there was no cause for concern.
Angie Cawkwell tweeted: "We live five miles away and the house shook."
Another resident Vicky Raynor, who lives in Parkgate, tweeted: "I nearly had a heart attack... thought my windows were coming through."
Those living close to the site and as far away as Mexborough reported hearing the noise.
South Yorkshire Fire and Rescue Service were called to the site at about 22:30 GMT and carried out checks.