New warship to be named HMS Sheffield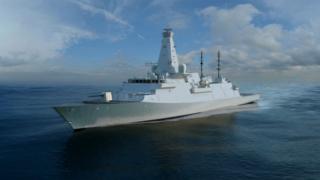 A new multi-million pound warship is to be named HMS Sheffield, more than 35 years after its namesake was hit by a missile in the Falklands War.
The Type 26 frigate is one of eight anti-submarine vessels to be built and will be the fourth HMS Sheffield to serve the Royal Navy.
A £3.7bn order for the first three ships was placed in 2017.
Twenty people died and 26 were injured when an Exocet missile hit HMS Sheffield in 1982.
The name of the new vessel was revealed by Defence Minister Stuart Andrew at Chesterfield Special Cylinders, in Sheffield, which makes high pressure gas storage systems for the ships.
He said: "HMS Sheffield will be at the forefront of our world leading Royal Navy for decades to come, providing cutting edge protection for our aircraft carriers and nuclear deterrent, and offering unrivalled capability at sea."
The names of five other frigates have previously been revealed as HMS Glasgow, HMS Belfast, HMS Cardiff, HMS Birmingham and HMS London. The name of a sixth warship was also revealed earlier as HMS Newcastle.
The First HMS Sheffield was built in 1935 and saw action in World War Two, notably assisting with the evacuation of troops from Andalsnes in Norway in 1940.
But it was the second incarnation of HMS Sheffield which imprinted itself on the national conscience.
On 4 May 1982 the Type 42 destroyer was hit by an Argentine missile while carrying out a scouting mission off Port Stanley in the South Atlantic.
The ship was engulfed by flames and eventually abandoned but it did not sink until being towed away from the Falklands almost a week later.
It was the first British ship to be lost in enemy action since World War Two and the first of four British ships to be sunk by the Argentine air force in the Falklands conflict.
The new Type 26 frigate is principally designed for anti-submarine warfare and will partially replace the current Type 23 frigate.
The first Type 26, HMS Glasgow, is due in service in the mid-2020s.
All eight will be built on the Clyde and based at Devonport Naval Base in Plymouth.