Police probe 'whip attack' by children in Sheffield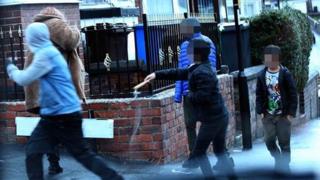 Police are investigating claims a woman was attacked in the street by a group of children using homemade whips.
Sharon Hall said she was struck twice in an incident earlier this month in the Firth Park area of Sheffield.
Ms Hall claimed those responsible were from the Roma-Slovak community.
South Yorkshire Police said it was aware young people in the area had begun making and carrying "whip-type implements" and is investigating Ms Hall's allegations.
Ms Hall said: "I was struck a couple of times, once on my back and once on the back of my calf.
"There were about six or seven Slovakian Gypsy children and three of them had got whips."
She said the whips appeared to be made from a piece of wood and a length of washing line.
Sgt Philip Mackey said: "We understand that those young people making the whips are doing so because they believe it's a form of toy.
"[But] the fact remains that those items could potentially be dangerous and cause harm to another, so we're monitoring the situation closely and speaking with young people, their families, their schools and partner agencies."
Tomas Tancos, from the Sheffield Roma Network group, said he had confiscated ten whips from children in recent weeks.
He said life in the UK compared to Slovakia was a "different style" but the community was working hard to integrate and a recent litter picking event was attended by about 50 children.