South Yorkshire Police officer follows grandfather's footsteps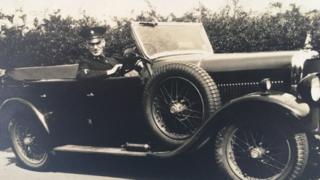 A South Yorkshire Police officer is patrolling the same beat as his grandfather, 90 years later.
Insp James Sheard joined the force in 2007 and now works the same patch in Rotherham town centre.
Clarence Sheard was the first officer in Rotherham Borough Police's new "Motorised Division" in the 1930s, having previously investigated gangs.
Insp Sheard, 40, said: "I'm so proud to be following in Clarence's footsteps, albeit in a very different Rotherham!"
Mr Sheard discovered photographs of his grandfather in police uniform and patrol car while helping his daughter on a school project about family history and Armistice Day.
"I always knew about Clarence's time with the police, but I didn't know much about his role in the Motorised Division until my dad dug out the old photos," Insp Sheard said.
"Not many people could drive back then, but he'd had driving lessons in the Army which could be why he was first behind the wheel of the new car."
Born in 1904, Clarence joined the Rotherham force in the early 1930s after having served in the Royal Artillery.
When World War II broke out, he eventually re-joined the Army as a gunnery instructor.
When the war ended, he worked in industry rather than returning to the force.
Mr Sheard said his grandfather had inspired him to join the police and he is the only person in his family to follow in his footsteps.