Barnsley massage parlour boss 'savagely murdered by drug user'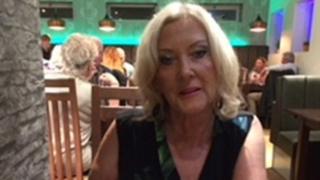 A massage parlour boss was "savagely and repeatedly" stabbed to death in her own home by a drug addict "desperate" for money, a court has heard.
Lee Fueloep, 40, is alleged to have stabbed 73-year-old Jill Hibberd 70 times on 30 May before stealing her Audi TT car to sell for drugs.
Her body was discovered by neighbours the following day in the living room of her home in Wombwell, near Barnsley.
Mr Fueloep, of Willow Garth, Wombwell, denies murder at Sheffield Crown Court.
Prosecutor Kama Melly QC said on the day of the killing Miss Hibberd, who owned Fantasia massage parlour, in Sheffield, arrived at her home in Roy Kilner Road at about 18.30 BST.
'Lost control'
She said at about 20:44 Mr Fueloep was captured on CCTV footage walking past and "glancing" at Miss Hibberd's home and a short while later was seen again walking back towards the address.
The barrister said about five minutes later Miss Hibberd's Audi was seen being driven away "at speed"
She said: "The evidence will show that Mr Fueloep went to Jill Hibberd's house and once inside there was a violent confrontation and the defendant lost control and stabbed Miss Hibberd savagely and repeatedly and then moved her body, dragging her by the ankles, so it could not be seen so easily by passers by.
"He then rifled through her hand bag and left her home not on foot but in the Audi TT."
Ms Melly said Mr Fueloep then disposed of the car with the help of a man called Andrew Ashby and used the money he made to buy heroin and crack cocaine.
She told the jury Mr Fueloep was a drug user who "frequently got to the point when he could no longer live off benefits and would simply knock on people's doors in the area to try and get money off them".
The court heard he later told police in interview he had been "desperate for money" on the day of the murder.
Miss Hibberd's body was discovered at about 08:00 on 31 May by concerned neighbours who had spotted the house lights were still on and her Audi was missing.
Jurors were told that at about 08:20 Mr Fueloep was seen outside his home and was said to have commented to a neighbour in relation to the police presence in the area "I hope they don't think it was me with my record".
The trial continues.