Ladywood Primary School dinner lady strike ends after jobs saved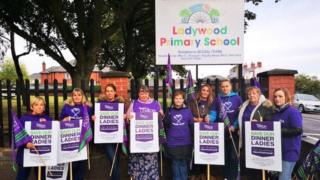 A long-running strike by nine dinner ladies facing redundancy has come to an end after a school withdrew plans to axe their jobs.
Ladywood Primary School, in Grimethorpe, South Yorkshire, had proposed to use teaching assistants to supervise meals to save money.
However, after 36 days of industrial action the school announced it had shelved the plan.
Trade union Unison said the decision was a "great victory".
Unison area organiser Jordan Stapleton said: "Our dinner ladies between them have got over 100 years' experience at the school and they provide a caring and important role that is valued by the children.
"Importantly, the teaching assistants at the school were not prepared to put their family, friends and colleagues out of work.
"Where schools do need to make savings they need to know that low-paid women are not easy targets and the contributions they make to our communities cannot be underestimated."
Head teacher Clare Grainger said in June the school had been forced to review its staffing structure as it was was "facing a significant budget shortfall for 2019/2020".
However, in a statement the school said the redundancy plan had been withdrawn after it learned a higher level teaching assistant was leaving.
It said: "As a direct consequence the school can work within its budget for 2019/20 without the need to make redundancies."
"[But] the budget projections for 2020/21 still indicate a deficit position and therefore a further review of the staffing structure will be required in the near future."
Ladywood Primary had previously been criticised for spending more than £2,000 on training a school dog.