Missing Ben Needham: Blood on toy car 'not a match'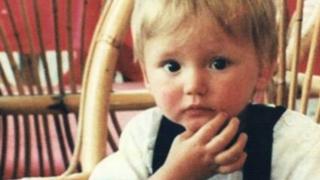 Traces of blood on a toy car found amid the search for Ben Needham did not match his DNA, police said.
The missing toddler was 21 months old when he disappeared on the Greek island of Kos in July 1991.
South Yorkshire Police said forensic examinations of the toy, which was recovered from the island, showed no match to Ben or members of his family.
Det Insp Jon Cousins said it was still his "professional belief" Ben died in an accident at a farmhouse.
Live updates and more stories from Yorkshire
When the toy car was discovered in 2016, Ben's family, from Sheffield, said they believed it could have been his.
South Yorkshire Police said that "detailed forensic work" had since been carried out over several months on items brought back from Kos.
Ben went missing while playing near a farmhouse which was being renovated by his grandfather in Iraklis.
An 21-day search of land around the building and a second site 750m (820 yards) away took place in October 2016 after it emerged the toddler may have been crushed to death by a digger working on the site.
About 60 items discovered during the search were brought back to the UK, some of which were sent for testing at the James Hutton Institute in Aberdeen.
South Yorkshire Police said Ben's family had been told there was no DNA match but that officers would "consider any opportunity to continue the examination of all the items recovered".
Despite the forensic results, Det Ch Insp Cousins said, it was his view that Ben died as a result of a tragic incident "involving heavy machinery" at the farmhouse.