Bid to make Sheffield's concrete security blocks 'more festive'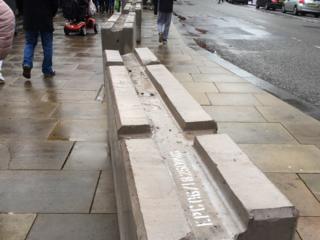 Concrete security blocks outside a town hall will be "jazzed up" for Christmas.
Sheffield City Council installed large grey bollards outside the town hall and Pinstone Street as "additional security" over the Christmas period.
The barriers have been criticised for lacking Christmas cheer, so the authority has invited people to make them look "more festive".
Councillor Jim Steinke said it was a "sad state of affairs" that the blocks were needed.
He added: "If we have to then we may as well jazz them up a bit.
"We can have another unveiling, sort of like the Christmas lights."
The blocks, measuring 2.5m by 0.5m (8.2 by 1.6 ft) are on loan so cannot be painted.
Instead, people can design covers for them and the five best will be printed, at a cost of about £2,800 to the council.
The blocks will remain in place until January and may be reused in future, the council said.
Mr Steinke, who is cabinet member for neighbourhoods and community safety, said the council used smaller blocks last year.
The authority was advised to upsize, not because of an increased threat but because of a "government crackdown on good practice", he said.